Create the Best SaaS SEO Strategy
The Benefits of a Strong SaaS SEO Strategy
Why You Need a SaaS SEO Consultant
What to Ask a SaaS SEO Consultant
Leave the SaaS SEO to the Experts
SaaS SEO Consultant: Partner with an Expert 
Hiring a SaaS SEO consultant could be the most valuable thing you do for your business this year.
Why? Because if you want to succeed in today's competitive SaaS landscape, you need a strong online presence. Virtually any company can improve its chances of sales and growth with Search Engine Optimization. In fact, studies show that SEO drives anywhere up to 1000% more traffic than organic social media and other marketing strategies.
However, strong SEO is particularly important for SaaS companies.
In the software as a service landscape, it's almost guaranteed your customers are going to be looking for your solutions using a search engine. After all, where would you start if you wanted to find a new collaboration tool, video conferencing app, or accounting system?
The trouble is, creating a strong SEO strategy isn't always simple.
In the SaaS landscape, you're dealing with unique challenges like complex keywords, a rapidly growing number of competitors, and a specific type of customer.
Fortunately, a SaaS SEO Consultant can help.
The Benefits of a Strong SaaS SEO Strategy
SEO is consistently proven to be one of the most valuable and lucrative marketing strategies any business can invest in. 68% of online experiences start with a search engine, and 75% of marketers believe their SEO strategies help them to achieve their marketing goals.
For SaaS companies, SEO strategies don't just help with lead generation and increasing sales, they can also help you build stronger relationships with your customers. After all, in the SaaS landscape, your focus is on long-term relationships. You want your customers not just to buy a product, but to subscribe to a service they continue to pay for year after year.
In order to convince each potential customer to be a long-term asset to your brand, you need to demonstrate your credibility, and boost your authority with SEO.
Look at some of the world's biggest SaaS brands, from HubSpot and MailChimp, to Salesforce and Slack. You'll notice all of them have a fantastic presence on the search engines.
A strong SaaS SEO strategy positions you in front of your customers at each stage in their purchasing cycle, allowing you to not only capture and nurture leads, but also convert and retain them too.
The statistics on the benefits of SaaS SEO speak for themselves. According to studies, the ROI (Return on Investment) of SEO for B2B SaaS brands is 702%. A strong SaaS SEO strategy will:
Boost brand awareness and visibility, by positioning you higher in the search results when customers enter specific keywords or phrases.
Improve your authority, by placing you above your competitors, and showing customers that you're invested in producing engaging, relevant content.
Increase your leads and sales opportunities by allowing you to target, nurture, and convert prospects throughout the purchasing cycle.
SEO is also suitable for all kinds of websites. You can benefit regardless of whether your SaaS website is brand-new, you're moving to a new website, or you've been running your online presence for a while.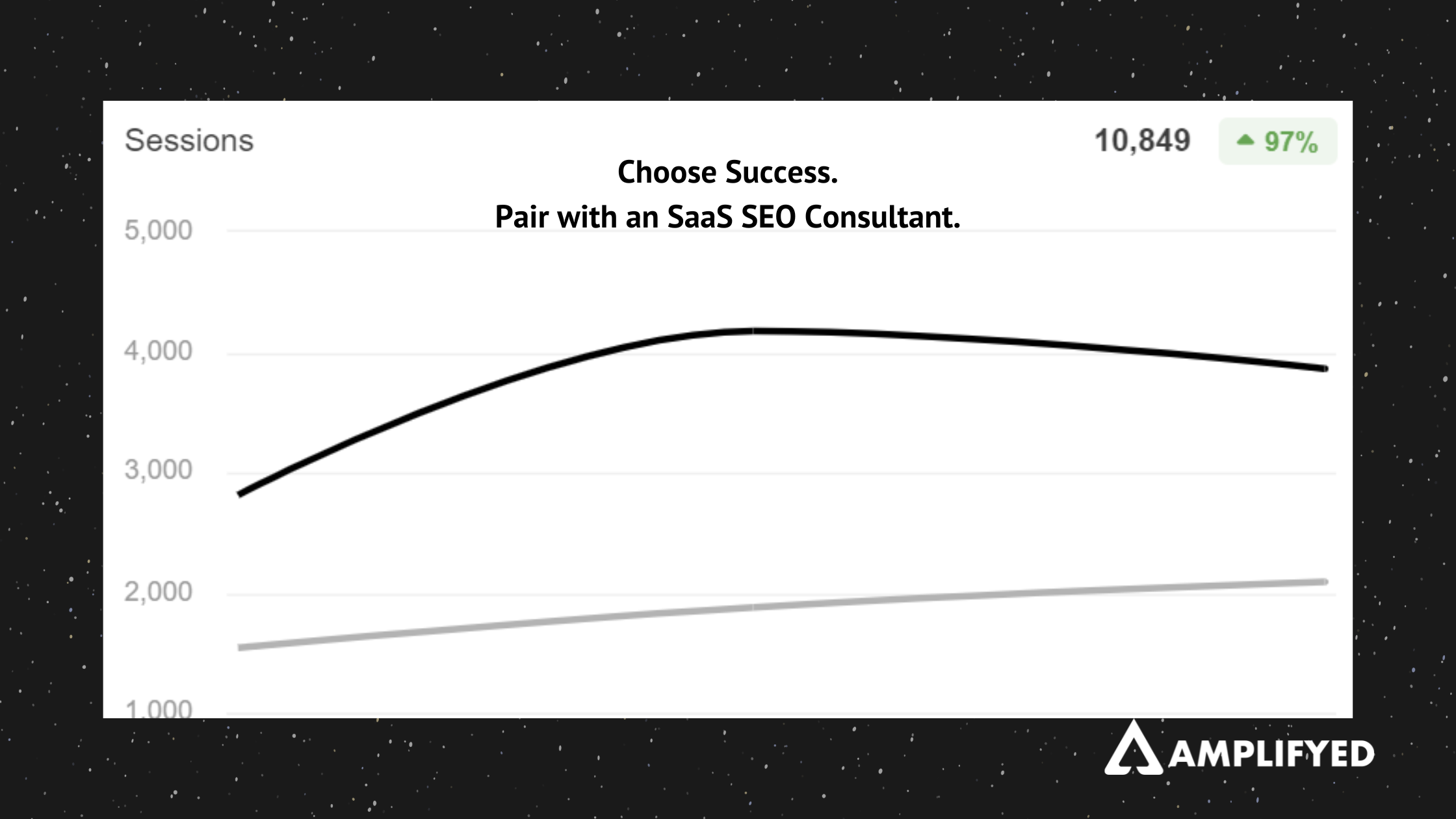 Why You Need a SaaS SEO Consultant
Unfortunately, as beneficial as SEO might be to a SaaS company, it's not without challenges. There's a difference between SEO for tech companies, and SEO strategies used by everyday B2C brands. As a SaaS business, the goals of your search engine campaign, and the techniques you use to reach your target are likely to come with very specific challenges.
First, you'll be competing for leads, rather than sales. For many SaaS brands, the first goal of SEO isn't to instantly convert prospects into buyers, but to create the foundations for a long-term relationship. Because SaaS client/brand relationships are long-lasting, the sales process often requires a greater focus on nurturing and trust building.
This means your SaaS SEO strategy will need to consider all aspects of the buyer journey, not just the bottom of the funnel. You'll have to think about how the intent of your customer may change from one stage of the purchasing funnel to the next, and how you can adjust your campaigns accordingly.
Secondly, keyword research and selection can be complex for SaaS companies. In order to generate the most success, SaaS companies often need to choose long-tail, specific keywords. You'll need to know when to use industry jargon, and when to keep things simple. You'll also need help determining where you should place your keywords in different kinds of content.
Finally, SaaS SEO often involves the creation of a lot of varied kinds of content. The chances are you won't just be producing the occasional blog post or news report. You'll need to produce content that aligns with every stage in the purchasing journey. You might want to produce case studies and testimonials for social proof, social media campaigns to boost brand awareness, and comparison posts to help your customers make better purchasing decisions.
A SaaS SEO Consultant can help with all of these steps, from helping you to find the best B2B website designs to optimize your content, to ensuring you're tracking the appropriate metrics from every campaign you promote.
What to Ask a SaaS SEO Consultant
These days, there are countless professionals who claim to be an SEO consultant and SaaS SEO expert. However, only a handful of individuals will be able to offer the consistent and reliable service you need. Remember, a SaaS SEO consultant will become an important extension of your SaaS company; it's important not to rush the process of choosing the right partner.
The best way to improve your chances of choosing the right SaaS consultant, is to give yourself a few options. Make a shortlist of potential companies to work with, then narrow down your choices with a few key questions.
1. What's Your Experience?
Experience is key to choosing a good SaaS SEO consultant. Your specialist should be able to show evidence of the work they've done in the Search Engine Optimization landscape. They should also be able to show specific examples of work they've done with other SaaS companies, and businesses connected with your industry.
Make sure your chosen consultant understands your market, the competitors you're going to be working to outshine, and the audience you want to reach. A good way to evaluate your SEO consultant's experience is to ask for case studies and testimonials from other clients. Determine whether these case studies demonstrate the SEO company's ability to solve the problems your own business is facing.
It may also be worth asking if your SaaS SEO consultant has any specific skills related to things like:
2. What Does Your Process Involve?
Next, find out what kind of SEO service your consultant is going to offer. How do they start the process of enhancing your search engine optimization strategy? Do they conduct a B2B SEO Audit, looking at everything from the existing keywords on your website, to your technical SEO? Will they conduct a full competitor analysis, and help you to create customer personas if you don't have them already?
How will they help you to achieve your goals once they're finished with their assessment? Will they provide a comprehensive step-by-step content strategy for you to follow? Can they provide your team with Standard Operating Procedures related to SEO? Some consultants can even offer to create content for your SEO strategy as a bonus service.
3. What can I Expect from Working with You?
Setting expectations early is important in any professional partnership. To ensure you're going to be getting what you need from your SaaS SEO Consultant, it's important to outline exactly what their SEO service is going to include. For instance, will they:
Produce specific industry content according to your requirements?
Help you design technical content for your website, or copywriting for pages?
Give you advice on how to improve your keyword or internal link building strategy?
Produce brand guidelines and instructional documents for marketing teams?
Help develop a content marketing strategy that aligns with your company's goals?
Work hand-in-hand with your content marketers and marketing leaders?
Be wary of any consultant who promises you a specific result, like an instant #1 spot on Google. SEO is always a slow process, focused on long-term results, and it never comes with guarantees.
4. How Will You Demonstrate Results?
If your SaaS SEO Consultant is going to be working with you long-term on building and implementing a plan for growth, they should also have a way of demonstrating their value to you. You should be able to request regular reports and analytics which allow you to examine your progress.
If you're uncomfortable with SEO, or you don't know much about how to measure relevant metrics related to inbound marketing, make sure your consultant is willing to talk through the reports with you. They should make it easy for you to establish your efforts are paying off.
Make sure your consultant is committed to constantly communicating with you too. They should keep you up-to-date on their processes and strategies, so you know what's happening behind the scenes.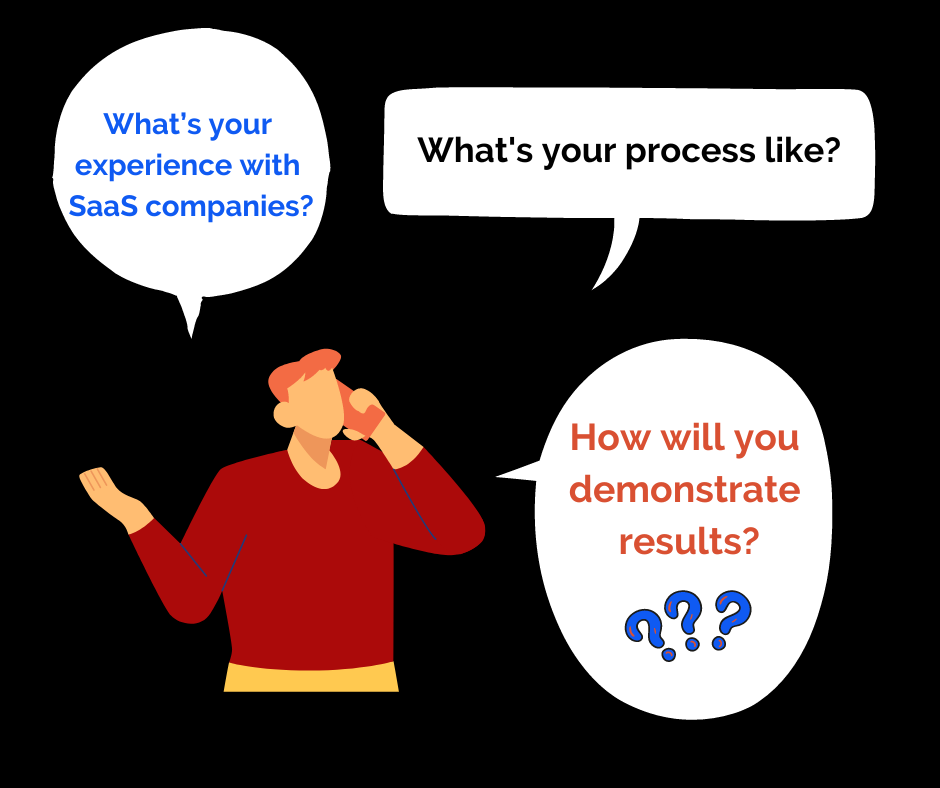 Leave the SaaS SEO to the Experts
SEO is an essential investment for any SaaS brand. However, it's not something you should attempt to tackle alone, unless you have extensive experience in the space. SEO is a complicated concept, with algorithms and rules that are constantly evolving and changing.
Hiring a SaaS SEO Consultant from day one might seem like an expensive process, but it's one of the best ways to save yourself time and money on your inbound marketing strategies. With the right consultant, you can accelerate your path to success, and generate a measurable return on investment faster. Contact Amplifyed today to connect with your ideal SaaS SEO consultant.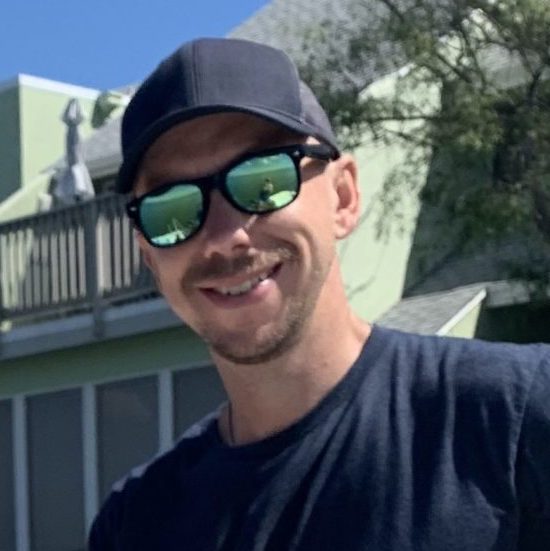 Founder
Hey! I live in San Diego and have been involved with SEO since 2010. Our amazing team at Amplifyed specializes in helping SaaS and tech companies dominate the search rankings. We serve as an extension of your team to make sure your content ranks and drives the right people to your website. Let's connect on LinkedIn and schedule a chat.